The hybrid workplace requires strong hybrid leaders
Introduction to Hybrid Leadership
We hold lectures and workshops on hybrid leadership, and the competencies needed in the new hybrid workplace. We base our services on in-depth practical experience with management in hybrid environments, combined with best practice from leading in nordic and international companies. Contact us for a chat about how we can help you.
Based on experiences from leading international companies
The hybrid workplace needs strong hybrid leaders
The corona crisis has seriously accelerated hybrid work, and many companies are currently considering how to maintain the positive experiences and create a new and better workplace for the benefit of both well-being and productivity. But how to get started with hybrid work, how to equip managers and employees to work part-time and collaborate effectively with colleagues in the office, and how to equip managers to lead effectively and fairly for everyone, regardless of location.
"The hybrid leader must make an active choice to be a good leader
for all,
regardless of location "
Did you bring the leaders on the journey?
We meet many companies that have defined the overall hybrid framework. Employees generally welcome the new opportunities for flexibility and hybrid collaboration. At the same time, many leaders are struggling to find themselves in the new model. There is nothing to say about that. Hybrid leadership requires an update of the leader's toolbox, and perhaps some leaders rediscover the softer leadership values such as empathy, closeness, communication and openness. But first and foremost, the hybrid leader must make an active choice to be a good leader for everyone regardless of location.
To succeed with the hybrid transformation, one must work with both the framework, competencies and the transformation process itself.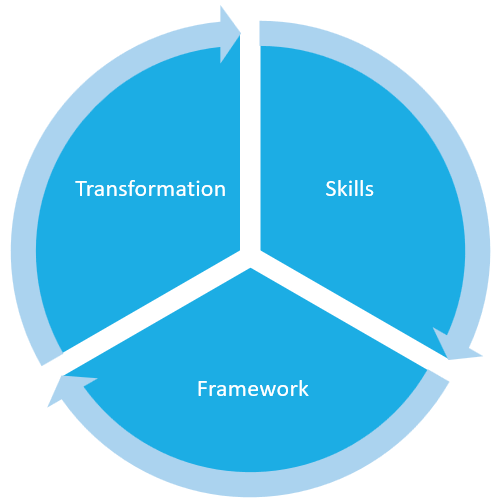 Do your leaders need inspiration and concrete experiences?
We hold lectures and workshops for both large and small workplaces. Our concept is based on learning from international companies, but we have also successfully delivered to public institutions in Denmark. We are based on concrete hybrid dilemmas and the necessary competencies of the leaders, and align our message with your strategy.
What we learned from the shutdown
The hybrid opportunities in the workplace of the future
How to drive the hybrid transformation
The competencies of the hybrid leader
The road to effective hybrid teams
Hybrid meetings and collaboration
Along the way, we touch on hybrid dilemmas like
How is the framework for hybrid work created?
How do we make the office a place employees want to be?
How do we lead equally and fairly for all?
How to ensure effective hybrid meetings that work for everyone?
How do we create coherence and cross-cutting sparring?
How is commitment and team spirit ensured in the hybrid?
How is teamwork and collaboration ensured?
How is effective onboarding ensured by new employees?
Leaders at all levels, and HR leaders in organizations that have chosen a hybrid workplace strategy
Online or physical education facilitated by longtime hybrid manager and former employee of Microsoft, Jesper Riedel from hybridledelse.dk
Initial meeting with needs clarification
Up to 8 hours of content customization
Initial survey which is adapted to the company's wishes
Follow-up meeting with advice based on data from the survey
This introduction to hybrid management is continuously developed in collaboration with participating companies. We are also happy to adapt to your specific needs. Fill out the contact form below and we will be happy to send you more information about the concept.